Long Xuyen Floating Market
Long Xuyen Floating Market | Travel Guide | Experience | Cost
Located on Hậu river, near Long Xuyên City Center, Long Xuyên Floating Market becomes a must-visit attraction every time visitors come to An Giang.
Long Xuyên Floating Market was formed a long time ago. Although the traffic is convenient and developed, the floating market still exists and retains its original form of activities. This is one of the unique cultural features of the people of An Giang in particular and the people of the Mekong Delta in general. The starting point of the floating market starts from Ô Môi ferry station, along Hậu river about 2km length. The motorboats promise to take tourists to visit every corner of the floating market. Try to experience and discover a busy market, the scene of trading on the boat is so strange but in style of Vietnamese western regions. Lets learn the unique features of Long Xuyên Floating Market.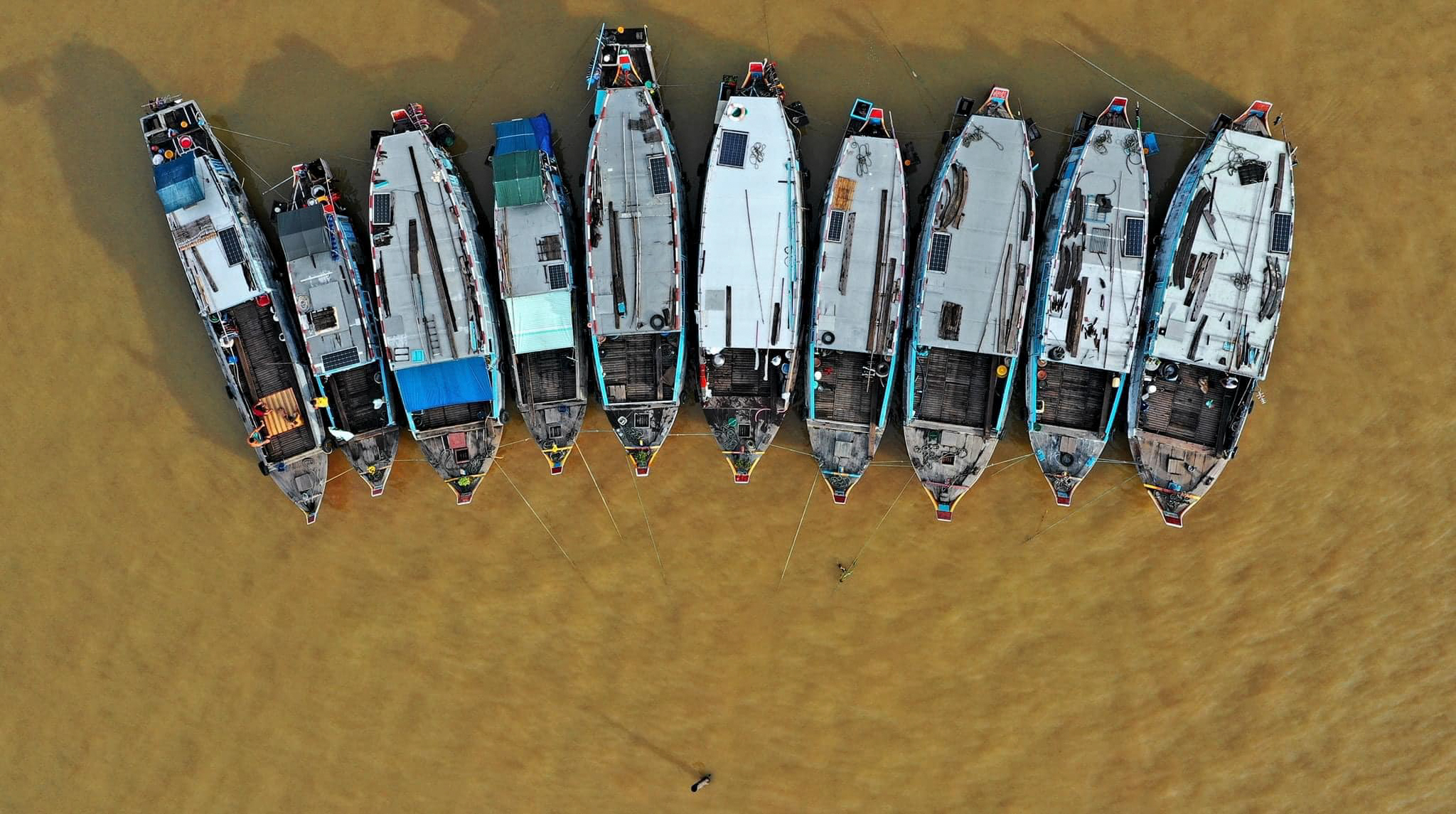 View of boats at Long Xuyen floating market from above

How to go to Long Xuyên Floating Market from the boat station.
The floating market is located only about 2km from the center of Long Xuyên city. It takes about 5 miniutes by boat. Most of tourist choose to start their journey from Ô Môi ferry station.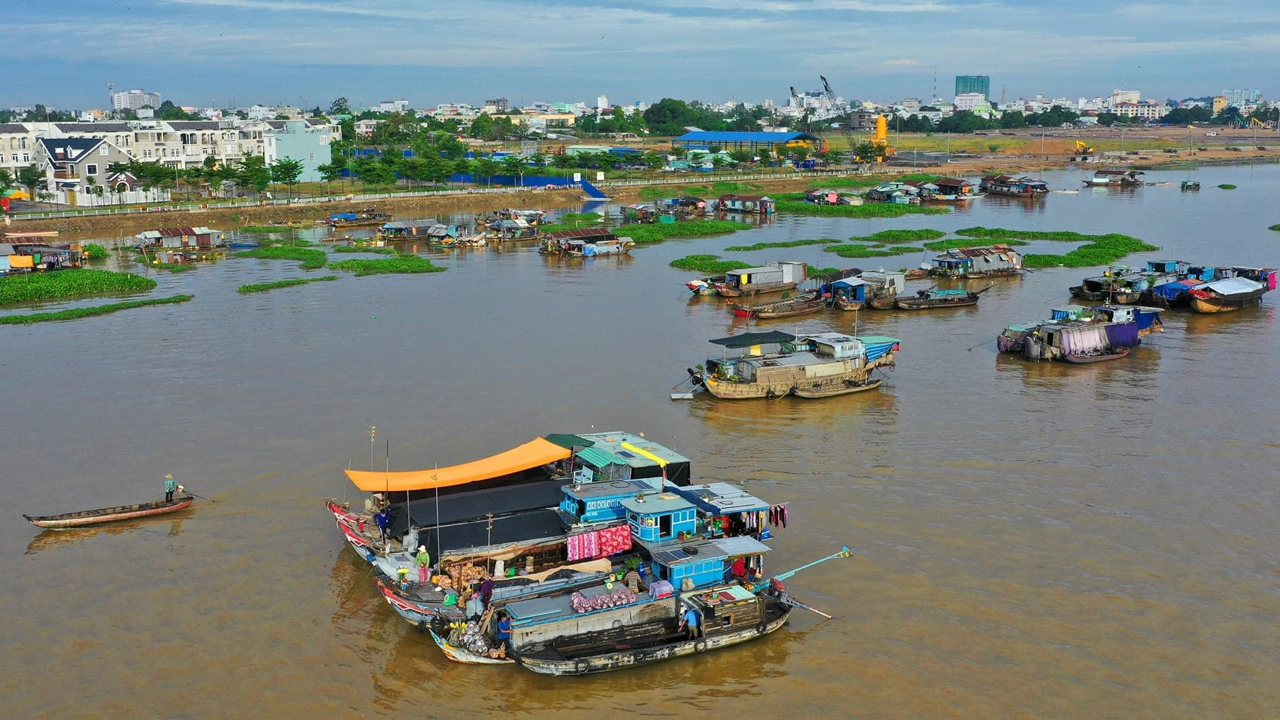 Floating market in An Giang
How to go to boat station
It is located near Ô Môi ferry station that is only about 2km from the city center, close to Long Xuyên market, along Hậu River.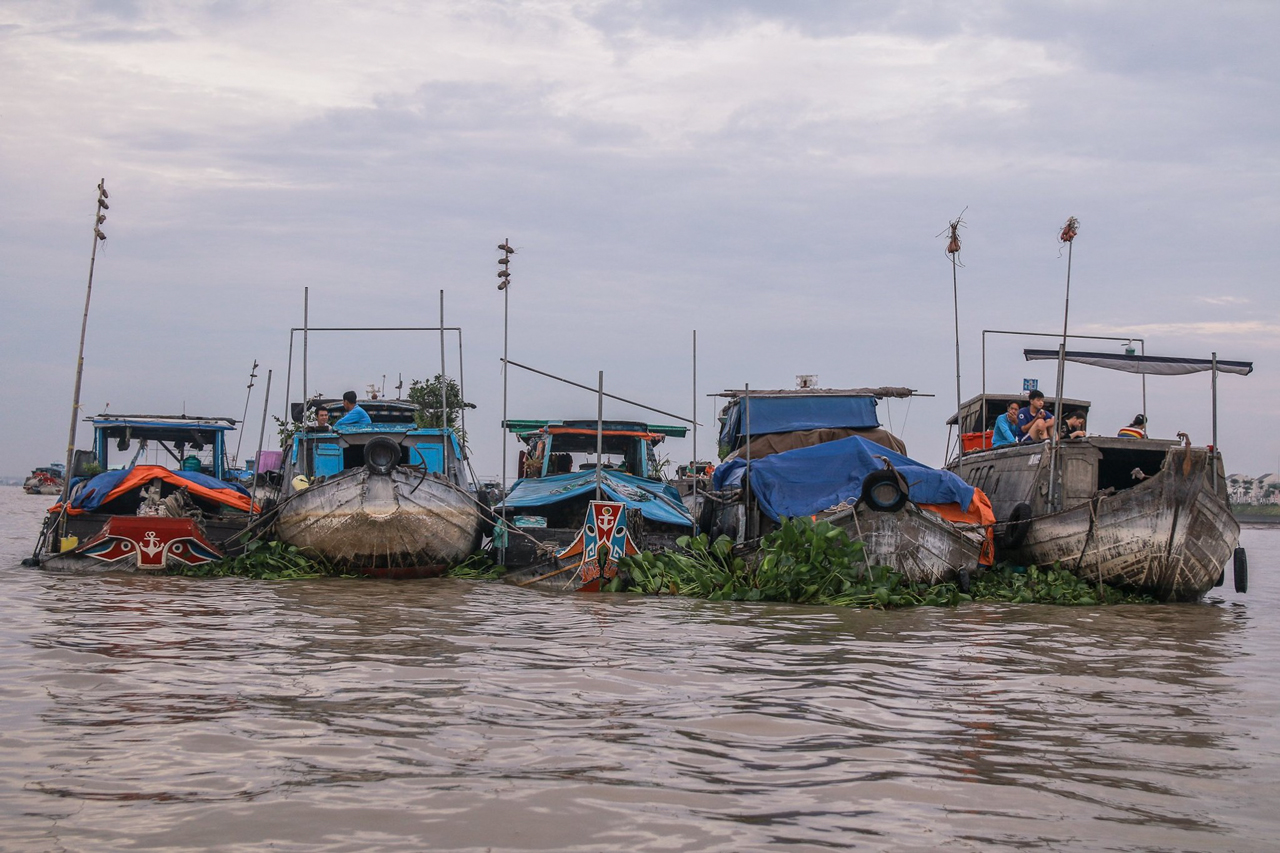 Boats at Hậu River
Address: Ô Môi ferry station, Phan Huy Chú, Mỹ Long ward, Long Xuyên city, An Giang.
Google Maps: https://goo.gl/maps/ad1TAy4q5MzZMZAP8
The cost to rent boat go to Long Xuyen Floating Market
It take about 150,000 VND - 200,000 VND for about 2 hours to rent a boat to visit Long Xuyên Floating Martket
If you go in a group of 5 people and it only costs 150,000 VND for the whole boat. If traveling in a group of 7-8 people, the larger boat costs 200,000 VND.Book a boat to Long Xuyên floating market
Some boat owners
* Uncle Ba Đò: 0932944419.
* Mr. Điền: 0948 638 245.
* Ms. Tám: 094 801 6031.
* Mr. Vàng: 033 5300 624.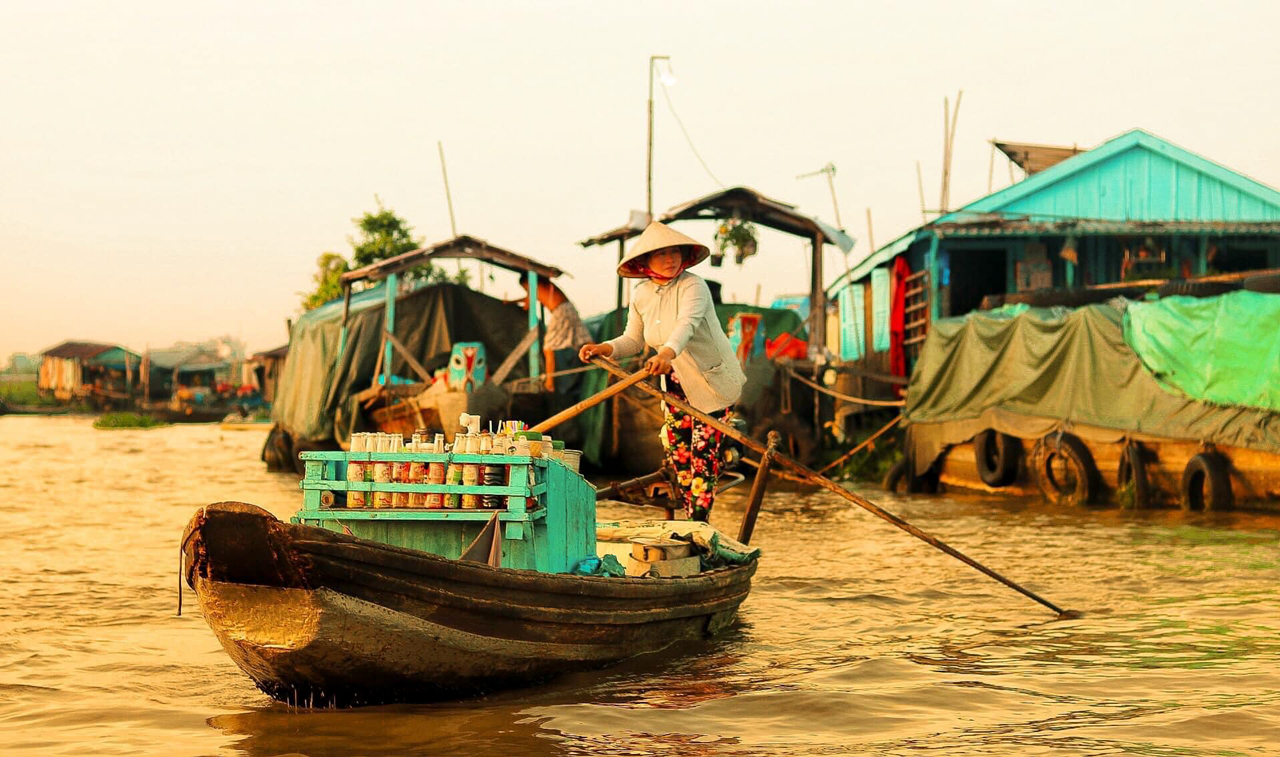 A boat selling soft drink at Floating Martket
What time is the best time to visit Long Xuyên Floating Market?
The operating time of the floating market is from 5:00 am to 10:00 am. However, the best time for visiting is around 6:00 am. At that time, you can both catch the dawn and discover the market of small businesses on boats.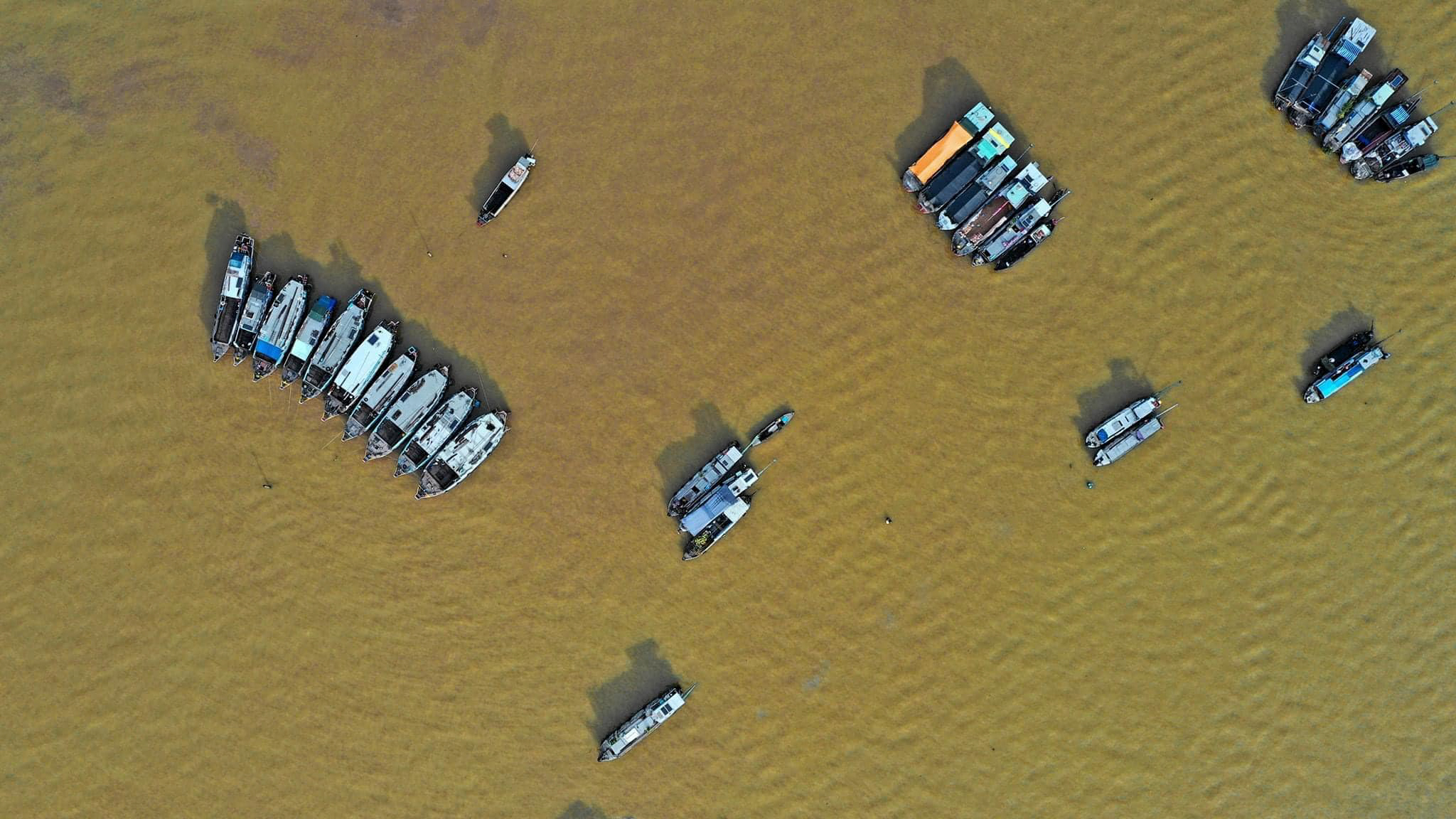 Boats moored at the floating market
Discover the beauty of culture
Long Xuyên floating market does not have too many boats as Cái Răng floating market (Cần Thơ). But that's its own charm because you avoid the busy. This area only has more than 100 boats. Sitting on a small boat, gently surfing the small merchant boats, You easily integrate, talk with local people or take pictures.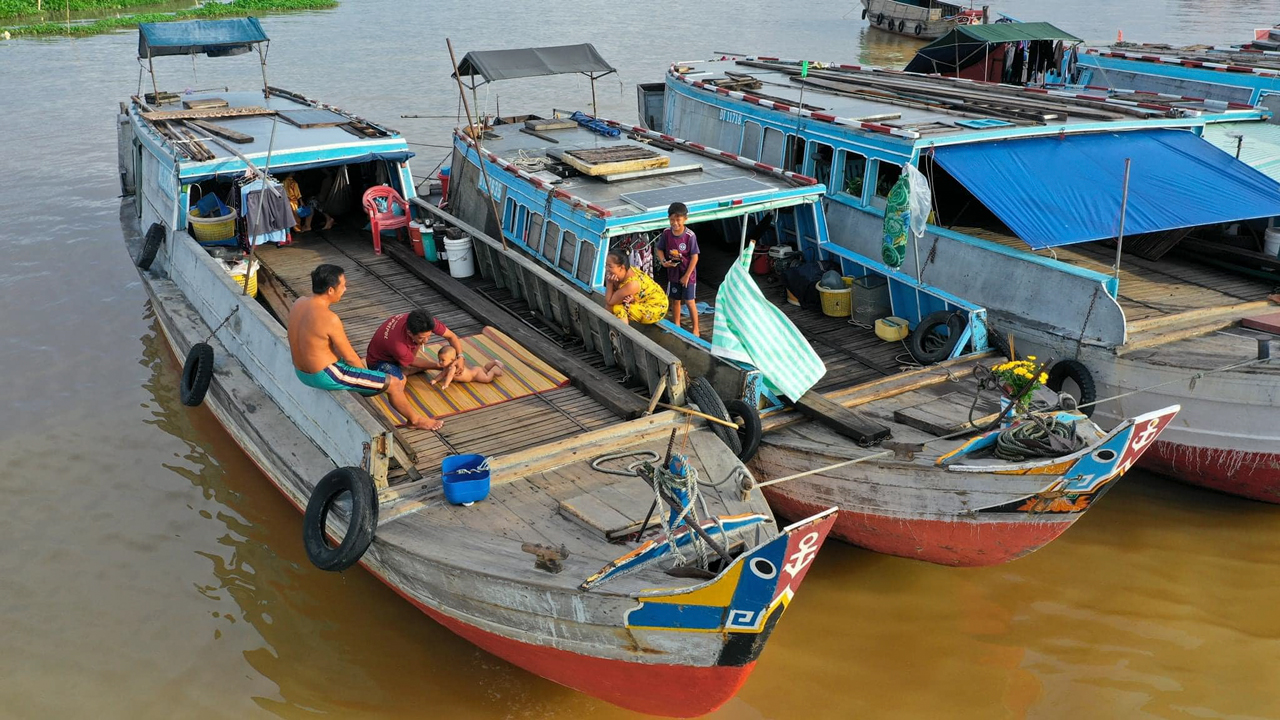 Life on the River
Floating market is an interesting cultural feature of people in the Mekong Delta, a land with a lot of rivers. It is easier for people to transport in river than on road (when motorbikes, trucks and roads are not develop). Normally, people sometimes stop at the boat station for 10 days or half a month. They sale agricultural products, fruits on the boat. Small traders will take small boats to buy and transport to wholesale and retail in markets. Therefore, the floating market always opens quite early from about before 5:00 am.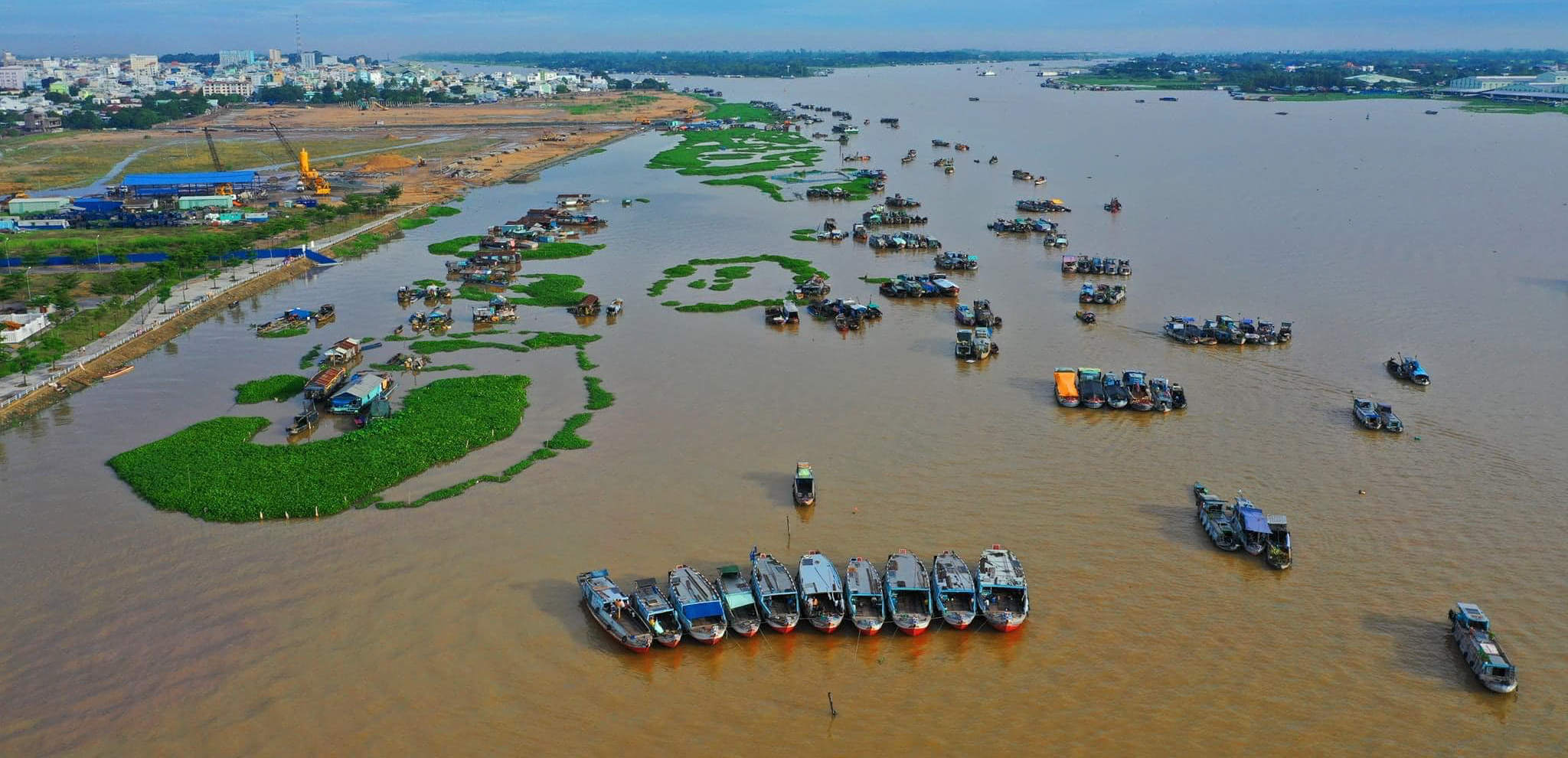 Long Xuyen Floating Market seen from above
Fruit is so cheap
Fruit in Long Xuyên floating market is quite cheap. So you can freely choose and enjoy a lot of fruits sold on the boat. Most of the fruits are sold depending on the season: pineapple, orange, coconut, plum, jackfruit, etc.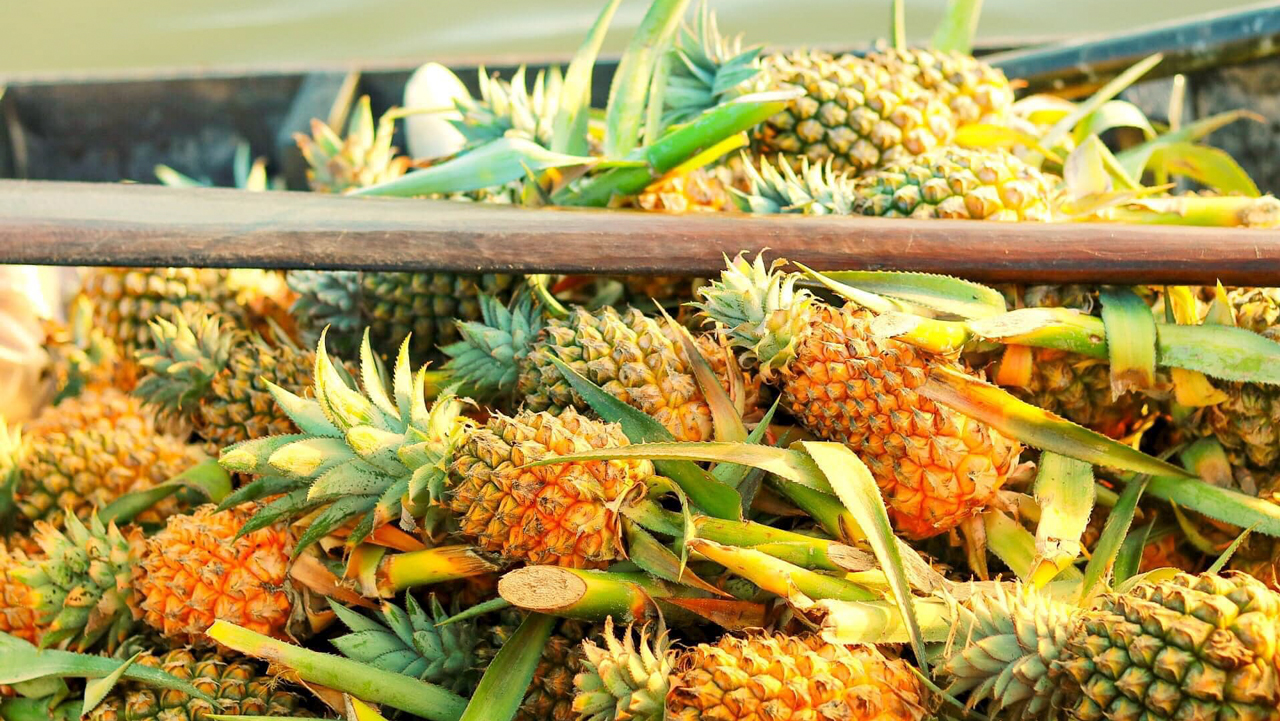 A boat fulled with pineapple
Having breakfast on a boat
Don't forget to enjoy a "floating" breakfast with rustic dishes such as crab vermicelli, fish vermicelli, silkworm cake, coffee to enjoy the feeling of being shaken while eating. That will be unforgettable memories.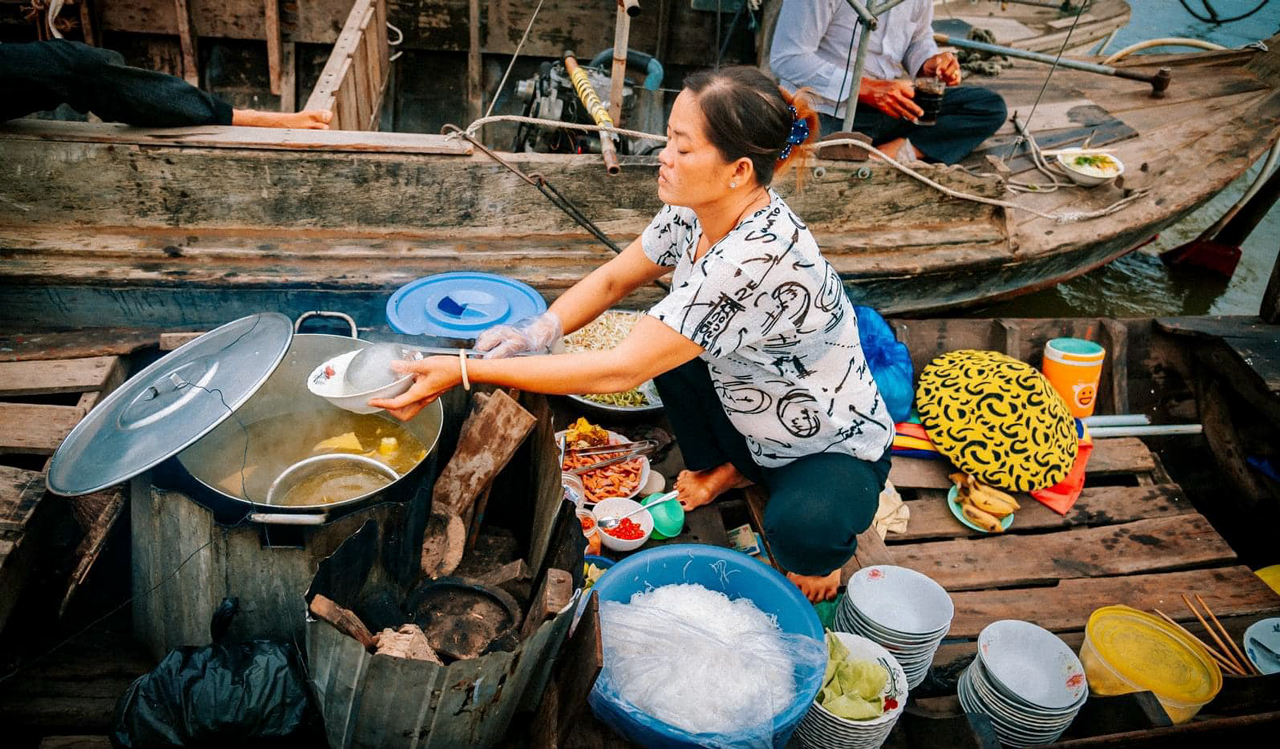 A boat selling breakfast
Although the taste of breakfast is not too different on the mainland, sitting and eating on the boat in the morning scene is also very interesting.
IF YOU EAT THE DRIED NOODLES, IT IS SIMPLE. BUT IF YOU EAT NOODLES WITH SOUP, BE CAREFULL. SHAKING BOAT CAN WASTE HOT WATER.
Tip: Stiried vermicelli at Long Xuyên floating market is the most appreciated dish. Eating this noodle is easier and avoids the trouble of eating on the boat.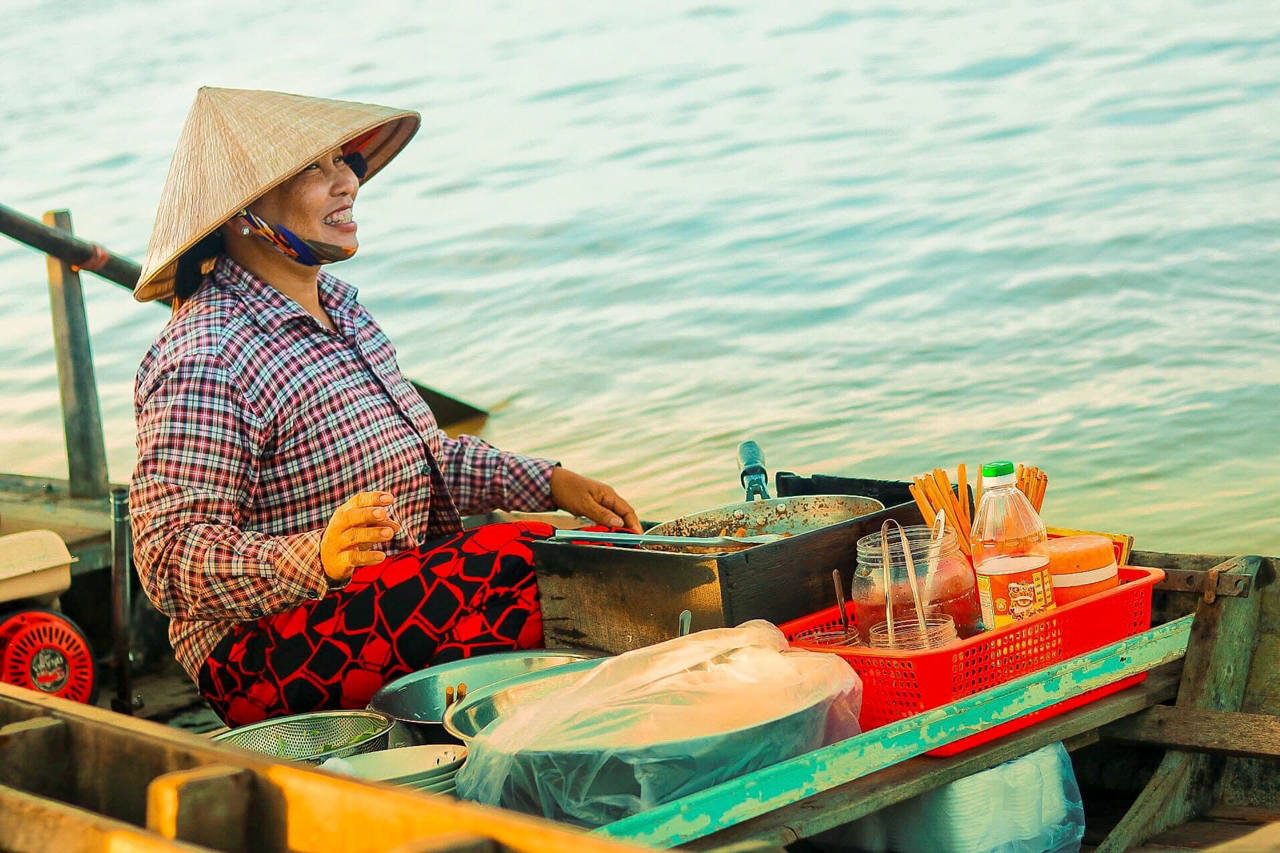 The owner of the boat selling fried noodles
A story about "Cây bẹo"
"Cây bẹo" is an interesting feature in floating markets in the West region of Việt Nam. It is often said that "cây bẹo" is the first maketing method in the West region. In the past, the floating market was always crowded with boats, so people could not distinguish which products sold and approaching the boat was quite difficultly. So that, people hang the agricultural products that they are selling on the tree. From afar, buyers can see and return boats to buy what they need.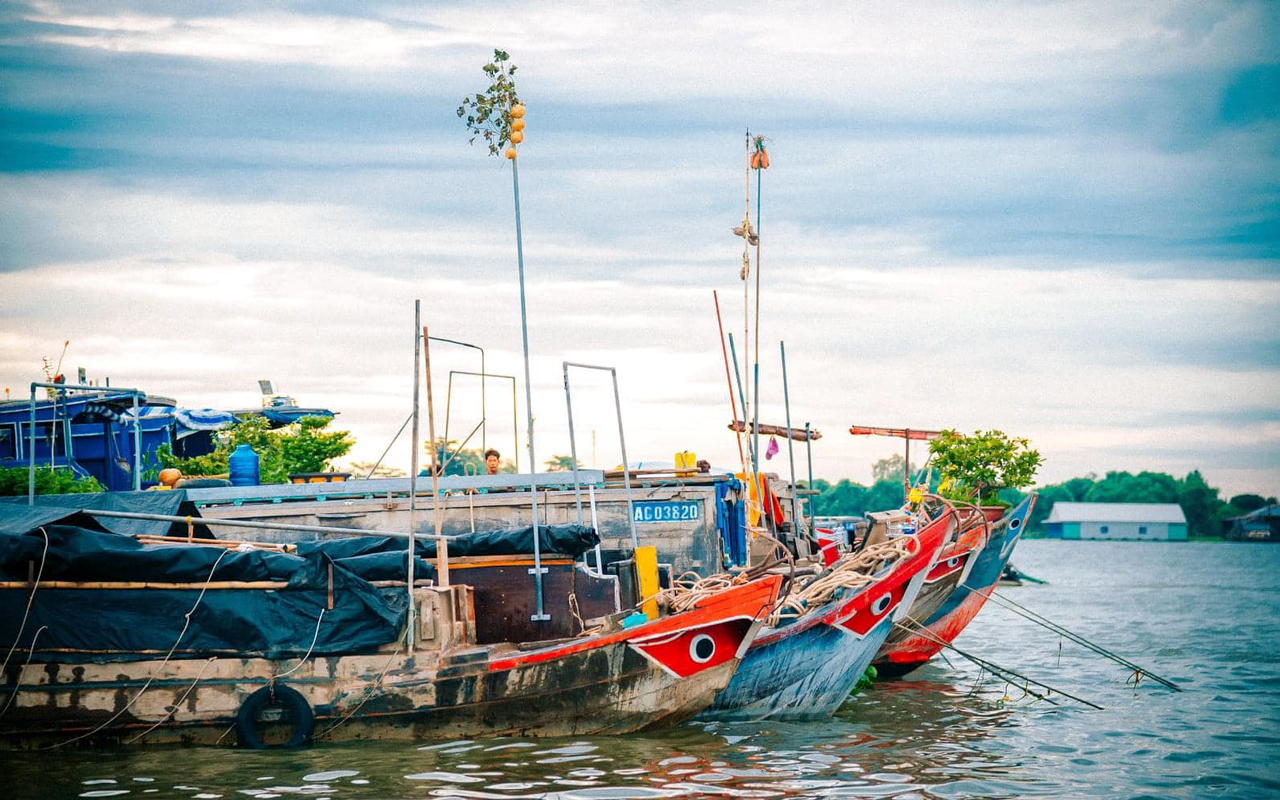 "Cây bẹo" in boat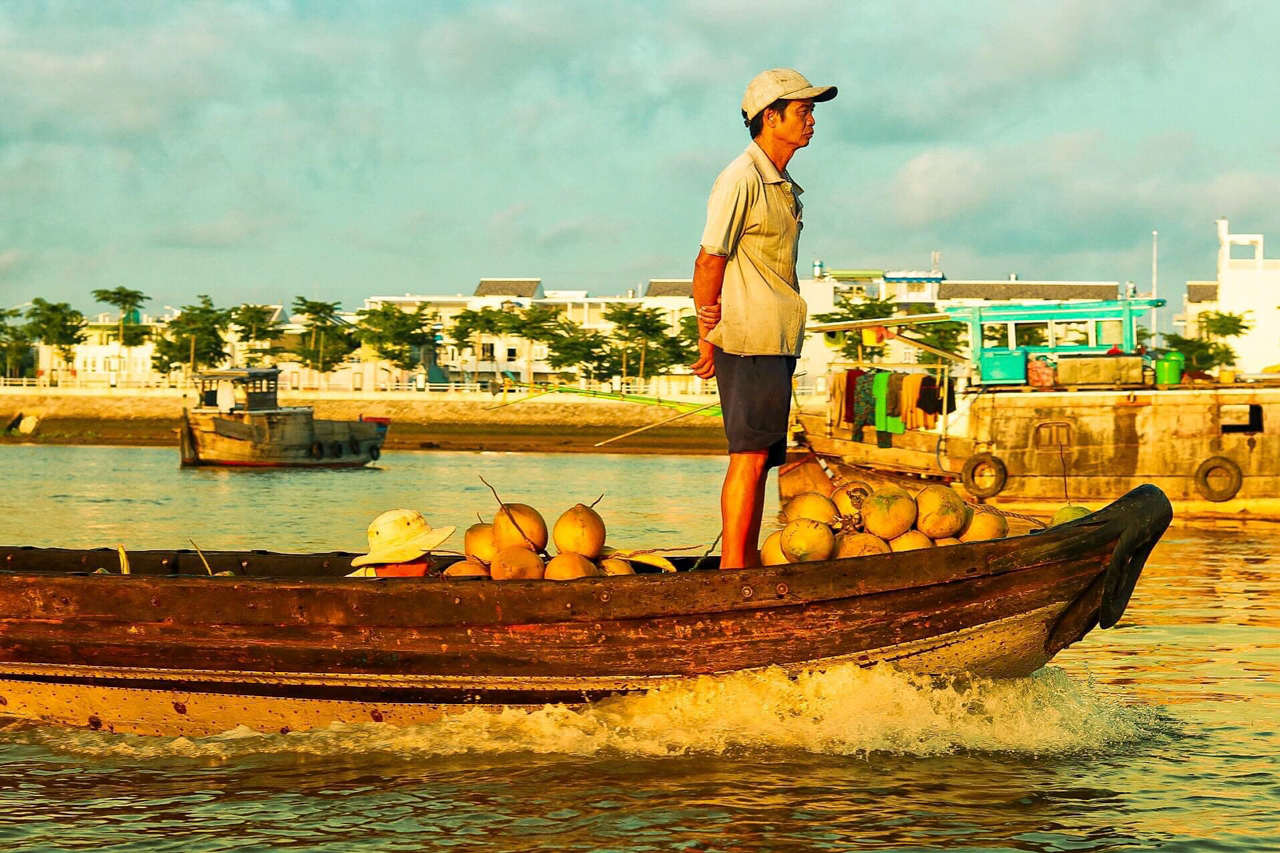 A boat seeling coconut
Temporarily leaving Long Xuyen Floating Market, the journey to An Giang tourism has only just begun, there are still many extremely attractive places to visit that are welcoming visitors to discover the endless beauty of An Giang.
Source :An Giang Tourism Geographic, TTXTTMDTAG and mientaycogi.com
Hoan Duc - An Giang Trade And Investment Promotion Center