Chợ Mới district is an islet, 29km far from Long Xuyên city, surrounded by Tiền and Hậu rivers, with many provincial and national historical sites and a unique religious architectural complex. In particular, tourism in three communes in Giêng islet, a small islet surounded by rivers, is very attractiveby many tourist attractions.
Giêng islet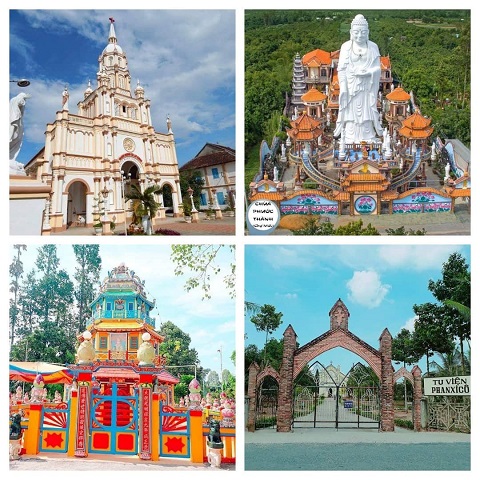 If you are a nature lover and want to explore ancient lands, Giêng islet will be a great choice for you to leave the noisy and bustling urban city. There are 03 communes (Tấn Mỹ, Mỹ Hiệp, Bình Phước Xuân) in Giêng islet, where covered by green of mango gardens with fresh air and charming landscape.
In the green islet, there is a complex of unique religious architecture: Giêng islet church, monastery, Phanxico monastery, Thành Hoa pagoda, Phước Thành pagoda, Rạch Sâu church; Tomb of ancient bureaucracy, traditional craft villages making boats, making incense and fruit gardens.
Most accommodation and entertainment services in Cu Lao Gieng are quite simple and reasonable price. You can choose to stay at rooms for rent, motels, hotels or choose to experience an idyllic, rustic life with local people at homestays.
There are mawny special dishes such as grilled snakehead fish, sour soup with howling fish, fish hot pot, fried shrimp, Vietnamese pancakes, steamed snails with pepper, crab steamed lemongrass… and finally enjoy mango melon, a dish not to be missed when coming to this mango island. Mango melon is made of unripe mangoes, splited in half, removed seeds, and still retains its crispiness through processing. The sweet, sour spicy taste but crunchy at the tip of the tongue. You can also buy mangoes or mango melons as gifts for relatives and friends, mangoes are sold at fruit markets.
Mỹ Luông eco-toursim site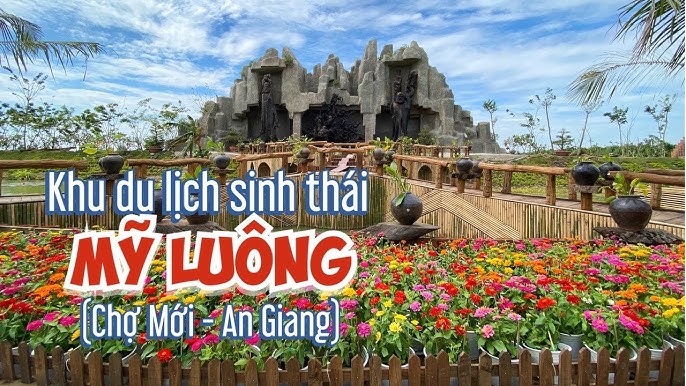 Coming to Chợ Mới, dont miss Mỹ Luông Eco-tourism site. It is not far from Giêng islet is a tourist site, located in the middle of vast green fields with 2-hectar area, invested over 69 billion VND. When talking abour ecotourism in the West region, you will immediately think of orchards and rivers. However, coming to this brand new and genuine tourist site, you will be able to visit and experience
- The "unique" driftwood art area.
- The house displays more than 500 cars with license plates of four quarters, five quarters, lobby forward...
- Very nice check-in space.
- Lugar Bistro restaurant, rustic style.
- Outdoor event area
Vietnamese song about Chợ Mới
"Cái chợ có hồi nào và bao nhiêu tuổi
Mà ai cũng bảo rằng Chợ Mới quê hương..."
(In English:
When was the market and How old was it
Everyone said that new market is hometown)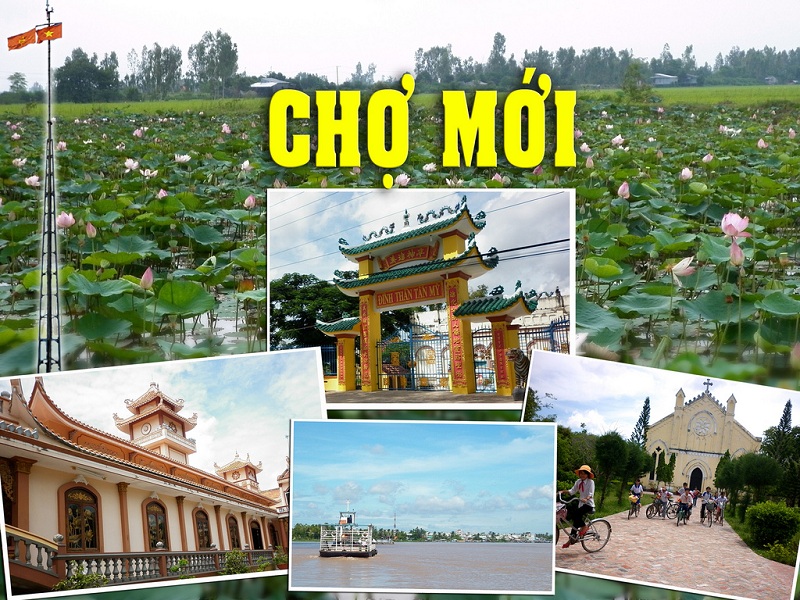 On the way to Cho Moi, do not be surprised when you hear these words about Chợ Mới village, this is a very familiar "Vietnamses song" that you can here in every party occasion. "New Market" (Chợ Mới) has something interesting. The market has been around for generations, but it's always new. The content of the song is simply a love story of a boy named Tâm and a girl named Hồng by the poetic wharf and the story becomes a common song.
Let's visit Chợ Mới, which has river, wharf to discover, experience the beauty of this land, and the songs about Chợ Mới, where people are simple and gentle.
INFORMATION FOR TRAVELERS
Giêng isletTourism Management Team: 02963.880.880 for assistance and introduce the most interesting destination and services.

Means of transport: motorbike, car

Mỹ Luông eco-tourism site: 7.00 to 21.00 daily

Aldult ticket: 50.000vnđ, Child ticket: 50.000vnđ
Include sightseeing and taking photo.
Morning is the best time for taking photos.
Good photographer can take you good photos.
Note, dress politely, discreetly in places of worship.
In other tourism site, you can dress up as interests
Tuyet Huong - An Giang Trade And Investment Promotion Center